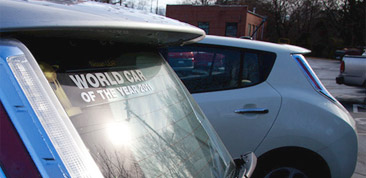 We're aggressively committed to Solar Power. We keep a sharp eye on what it's doing for us and for our community. You can too! If you want to "see how we're doing," check out our solar performance below.
We not only obtain our energy wisely – we pass it on, to our growing fleet of all electric cars via our own recharging station!
We recently completed a 93 kW Solar Energy System at our Salisbury, NC facility.
These Solar panels will produce enough electricity to meet the requirements of 10 average American homes and offset annual CO2 emissions equivalent to 8,113 gallons of gasoline per year.
This system also helps provide the power to feed 2 free electric automobile charging stations for our employees.
All major equipment for the project was made in the USA: a local workforce provided the construction skills and local financing paid for it all. Think global, act local.
Yes indeed.