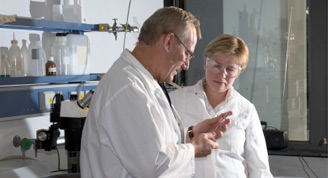 At Freirich, producing safe food is our number one priority, our customers deserve nothing less, and for over 85 years we've been doing just that.
Producing safe and wholesome high quality meats has been the cornerstone of our philosophy at Freirich beginning with Julian Freirich, the company's founder. Our commitment to safety is promoted at all levels of the plant from the CEO to the line employee.
Freirich has always strived to be on the cutting edge of food safety, often months or even years ahead of competitors and regulatory agencies. The company has had an approved HACCP plan, in place, since 1999.
1. Sanitary Design
Strict adherence to the American Meat Institutes' 10 Principles of Equipment Sanitary Design for Ready-to-Eat Equipment and the newly released 11 Principles of Sanitary Facility Design Download this Power Point document for more information.
2. Training
Food safety is engrained in each employee from day one. All employees receive intensive training on hygiene, bacteriology, allergens, and sanitation prior to ever starting work. Training is then reinforced through monthly seminars and annual refresher training. Prior to becoming supervisors, employees must complete an intensive 12 week training course on food safety.
3. HACCP
Freirich has been working under a USDA approved Hazard Analysis Critical Control Point plan since 1999. The HACCP plan identifies potential food safety hazards and then eliminates those hazards.
4. Sanitation
Unlike many companies that contract out their sanitation work to outside vendors, Freirich maintains its own sanitation team that ensures our plant is clean and free of harmful microorganisms. Our sanitation is verified by extensive environmental testing to ensure our surfaces are clean.
5. Microbiological Testing
Freirich conducts microbiological testing of both its raw materials and ingredients, and its finished product to ensure all of our meats are free of harmful bacteria.
6. Third Party Audits
In order to ensure our food safety system remains effective and relevant, Freirich undergoes several food safety third party audits each year to detect any weakness in our system. Freirich is SQF (Safe Quality Food) Certified. This assures our customers that our meats have been produced, processed, prepared and handled according to the highest possible standards throughout the supply chain.